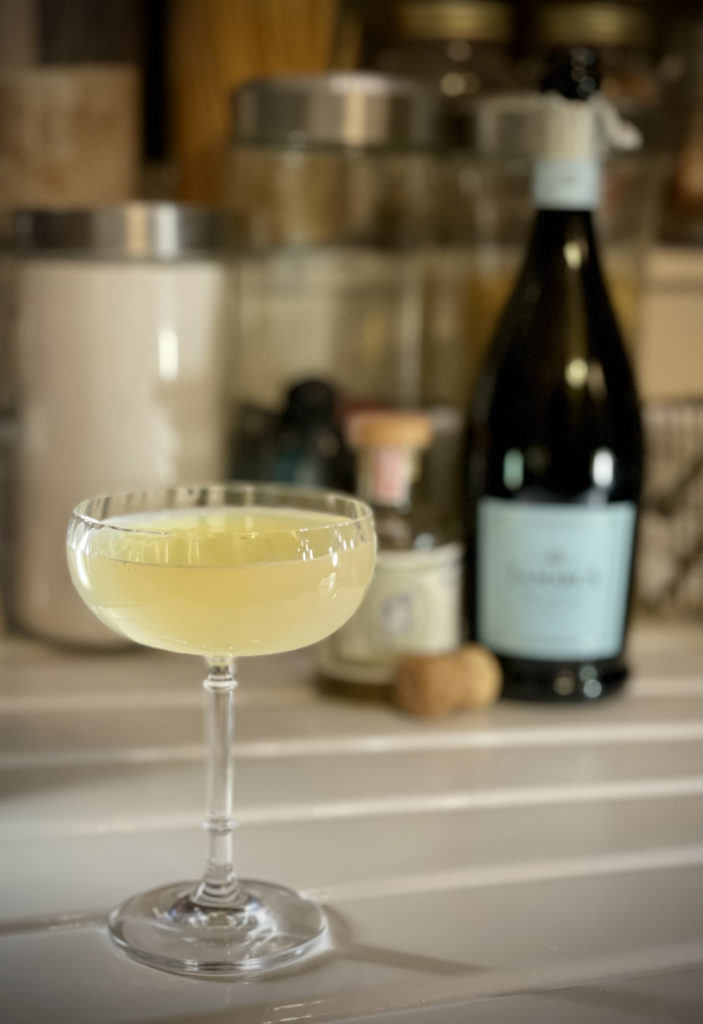 The champagne was cold, but the girls were hot and I was as green as the absinthe swirling in the glass as they stepped on to the dance floor. That's how it was in those days. I left home full of vigor, ready to prove myself a citizen of the world. I figured I had learned all they knew in school and it was time to see what lessons the real world could teach me. Mostly, it taught humility. Spain looked good on paper. I was living the life, as they say. A life mostly spent sitting in the corner of one club or another watching other folks enjoy that life I described in my letters home. As the cigarette smoke slowly rose from the ashtray, I signaled the barman with a nod. Sure, I'd have another. If I could not write like Hemingway, I could at least try to drink like him. So, won't you join me now as we stand and make the classic, Death in the Afternoon.
This one comes to us from Ernest Hemingway himself, honest. While he is often hailed for his love of the Floridita Daiquiri and the Mojito, this is a drink he actually submitted under his own hand for 1935's "So Red the Nose, or Breath in the Afternoon", a cocktail book featuring recipes from celebrity authors of the day. It's an interesting, if uninspired look into the culture of the time. Edgar Rice Burroughs offers up a daiquiri as a "Tarzan Cocktail" and there are lots of line drawings of thoughtless cultural stereotypes and scantily clad ladies with recipes submitted by celebrities that have been mostly forgotten by history, about what you'd expect from risqué 1935 pulp cocktail book.
Hemingway named his contribution after his literary "Death in the Afternoon", a non-fiction look into the world of bullfighting, specifically the rituals, ceremonies and traditions surrounding this bloodsport. He had already written about his experiences in Pamplona around the bullfighting ring to great effect in "The Sun Also Rises". Apparently, he had more to say about this time in Spain, so he followed it up with this guidebook. I am never quite sure whether this book is a deep dive into something he was passionate about or if it was one of those quick manuscripts that he ripped through in order to get the publishers or some creditor off his back. It does capture the spirit of the ring and a certain amount of Spanish culture, unlike the drink which we might as well go ahead and make.
Set the tone by cranking up Herb Alpert and the Tijuana Brass and their swinging version of "The Lonely Bull". This is not a complicated drink to make, in fact, like so many of these champagne inspired recipes, this is hardly a cocktail at all. Hemingway was known for his economy of words on the page and his excess of spirit in life, so rather than me explaining the drink, let us turn to the text and hear the author in his own words:
"Pour one jigger absinthe into a Champagne glass. Add iced Champagne until it attains the proper opalescent milkiness. Drink three to five of these slowly."

Ernest Hemingway, 1935
Simple enough? I followed his instructions, using the short side of the jigger to add 1 ounce of St. George's Absinthe Verte to a chilled coupe followed by roughly 4 ounces of chilled sparkling wine, I chose LaMarca Prosecco. You could make a fairly impassioned argument that I should have used actual champagne here or that if I was going to sub something in, I could have gone with a nice Spanish Cava and I would agree with you. However, I made my well-reasoned choice based on the fact that I had already opened the bottle to make a nice Otho's BrunchaPuncha and had more of this fine Italian bubbly left over than I had anticipated.
I like Hemingway's words. I like Hemingway's drinks of choice. I do not like this drink. Not at all. This concoction is in every way the opposite of Reese's Peanut Butter Cups, these two great tastes do not go great together. I will admit that I have a well documented aversion to absinthe, but I have been working on that and experimenting with different types. It is still not my favorite, but I am learning to better appreciate the domain of the green fairy. I like this absinthe well enough and I like this sparkling wine, but when you put them together, they make something less than the sum of its parts. The ingredients seem to combine in such a way as to focus on the worst aspects of each. The herbal notes of the absinthe get lost in a licorice morass as the bubbles grow spikes to catch on the palate as they go down in a newly harsh way. No sir, I didn't like it.
So, like any great literary equestrian, I dusted myself off and went again. This time I swapped in a more accessible Red Absinthe from Corsair. It takes its color from hibiscus flowers and I often find that it has a gentler punch than its more envious cousins. Sure, you don't get that beautiful green color, but I was trying to salvage my tastebuds and honestly, my St. George didn't go as green as I expected, but then I did not photoshop mine to make it pretty as the big blogs do. I also washed the glass with some Bogart's Bitters as many of the old recipes called for. After adding the Prosecco I garnished with some dried hibiscus flowers and declared the drink beautiful. It was truly a joy to behold, but when as I took it in my hand and brought it to my trembling lips, that superficial beauty faded, like it so often does.
In New Mexico, red or green is an important choice to make, but in this cocktail, don't waste your time debating. The answer is to drink absinthe, in its time and drink champagne in its time, but when it comes to mixing them, leave that to literary giants having a bit of a laugh in a throwaway pulp cocktail book, and please don't have three to five of them, slowly or otherwise. I mean, unless you are into that sort of thing. We are all friends here, you have nothing to prove. Perhaps, someday, my palate will be sophisticated enough to enjoy this classic. Perhaps, not. I'll keep working on it and maybe we can revisit this one in 2035, on its centenary. Till then, stay safe, stay hydrated and stay sane, my friends.