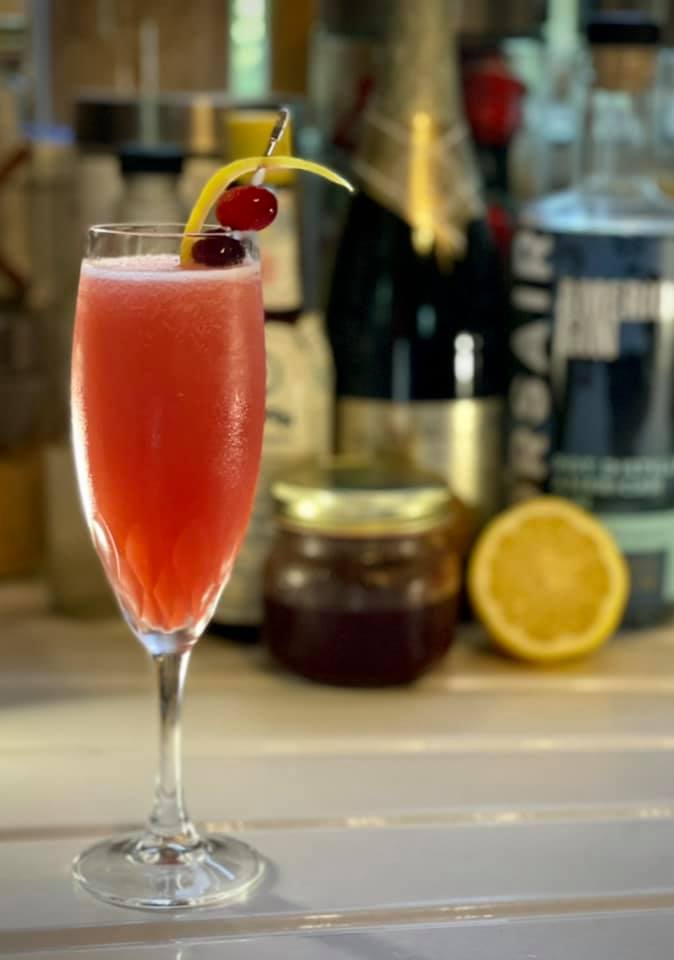 I said I was finished with champagne cocktails, but then, it turned out, I wasn't. I did not set out to deceive you but circumstances changed. Once, way back in my college days, my girlfriend asked, "Is it a lie, if I meant it when I said it?" I did not have a good answer. In that case, I was having trouble processing the changes in circumstance that led to that remarkably honest question. She taught me a lot, and if I had been listening that evening, perhaps I'd have had an easier time with those lessons. The thing is, when I said we were finished with bubbly cocktails, I had no idea, I was going to crack a bottle of sparkling wine for my baby brother's birthday. I knew Grandma was making Chicken & Dumplings, which meant cranberry sauce, so once I realized we weren't going to finish the bottle, I decided to make the best of this unexpected bounty. So, yeah, I meant it when I said it, but things changed, and I deceived you. I hope you can find it in your heart to forgive me for this and so many other unintentional trespasses, as we stand and make Northern Lights.
This one comes to us from David Delaney, Jr. of Ace Hotel, in Los Angeles. Earlier in the year we enjoyed the El Fiero, from that same bar and while doing my research I decided that it would definitely be a stop on my next LA trip. They've got a restored 1920's movie palace, that I need to see with my own eyes. This recipe features a cocktail ingredient we don't see all that often, cranberry sauce. You see cranberry juice in classics like the Cosmopolitan, Black Widow and Cape Codder, but the sauce is something special. We had great luck with spiced cranberry sauce simple syrup in the Holiday Margarita and the Cranberry Spiced Whiskey Sour, so I have high hopes for this one.
Grab your tins and pop in 1 ounce of gin, I chose Corsair American; 1/2 an ounce of simple syrup, 1/2 an ounce of freshly squeezed lemon juice, 2 barspoons of cranberry sauce and 2 stabs of Angostura Bitters. Add ice and give it a good shake to the beat of "Let Your Love Flow", by The Bellamy Brothers, which was number one in the charts way back in 1976 when the baby brother intruded on our lives and ruined my only child status. When well chilled, strain into a flute and top with 2 ounces of sparkling wine, I chose Aldi's second finest, Burlwood Cellars Brut. Garnish with some fresh cranberries, maybe a lemon peel, whatever strikes your fancy and serve.
Obviously, this is going to be tasty. It's a riff on the French 75 and I love the direction this one has taken. That tart cranberry really pushes through to assert itself, but the drink is still light and airy with a nice herbal base from the gin. Everything works in this one. You can adjust that simple syrup up or down to taste, depending on your cranberry sauce. The sweeter the sauce, the less simple, as they say. Maybe they don't say that anymore, who knows. Kids these days. I kind of love this one, though. Sure, I should have made it back when we were doing bubbly cocktails as a theme, but I missed this one, so consider this a make up day.
I have been thinking about that a lot lately, making up for things. Trying to get it right, even if it takes a second or third or thirtieth attempt. We've all made mistakes, that's a part of the deal. As my grandpa always said, "The only ones who don't tear anything up are the ones who don't do anything." It's funny that while those words always gave me the freedom to make mistakes in his workshop, I wasn't hearing the bigger lesson and I did not allow myself that freedom in daily life. Not only, was I not allowed to be wrong, I would lash out at anyone who implied that I might be. My imagined moral high ground was often a lonely height. John D. MacDonald wrote that "Every day, no matter how you fight it, you learn a little more about yourself, and all most of it does is teach humility." He's right, as usual. I spent most of my life afraid of making mistakes, burning the midnight oil to know more and be better prepared than the next guy. Always convinced that if I showed myself to be less than perfect that people would see through my facade. Never realizing that my symptoms weren't anything special. That most of us go through life waiting to grow up, faking it till we make it and setting new impossible goals as soon as we achieve anything of consequence.
I am getting older and crankier, nowadays and I am all about making mistakes, and doing my best to own them. I don't always pull that last part off, but I am trying. I try to make sure that I don't hurt others, but it happens, even with the best of intentions. When it happens, I am working on being better about owning my actions, apologizing and making amends, where I can. As it turns out, I am a work in progress and beyond trying to be kind, there is no real plan or expectation I have to meet. I mess up all the time now and it is wonderful. The freedom to fail is also permission to succeed in wholly new ways. Sure it feels like your in the big game, sometimes, with that spotlight shining on you. Once you get out of your own head, though, you'll find that hardly anyone is actually watching and the ones who are, they're rooting for you. So, do your best for now; when you can, do better and cut yourself some slack, nobody is keeping score anyway. Stay safe, stay hydrated and stay sane, my friends.