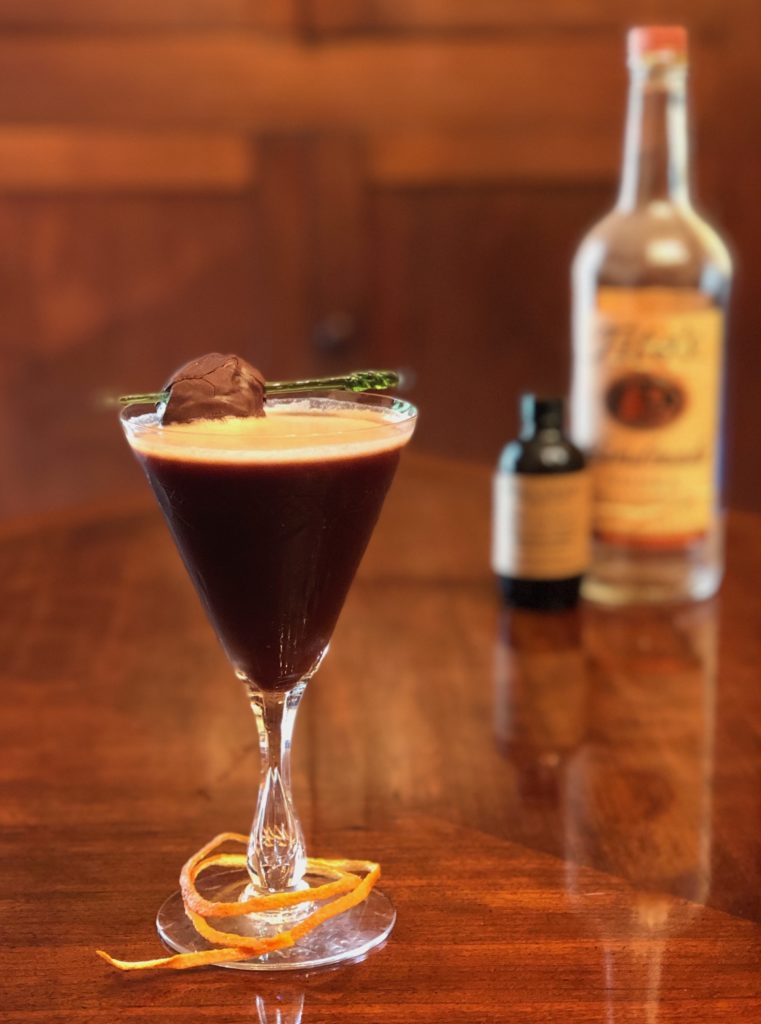 Today we celebrated my wife's 40th birthday, so something sweet and complex was in order. I know a little bit about sweet and complex things, since she and I have been married for nearly 18 years. This one is super simple to make but, oh so interesting. So, please join me now as we stand and make the Dude, Sweet Chocolate Martini. 
There are only three ingredients to this one, but two of them take a little work to acquire. Let's do a little shopping and then we will make the drink. The first ingredient is necessary and is maybe something you could probably approximate on your own, but why do that when you can help support the economy? So slide over to Dude, Sweet Chocolate in Dallas and pick up a bottle of their Break-up Potion. What is that you ask? Just a magical elixir with an agave base, just the right amount of Breckinridge Distillery Bourbon, you know the artisanal stuff made with fresh snow melt water; some 72% mixed origin South American Dark chocolate, finished with Valrhona cocoa powder. It's perfectly balanced, super complex and a lovely addition to this drink, coffee, ice cream, the body parts of a loved one, etc. Honestly, everything I have ever had from them is amazing, buy their stuff. If you are local check out the shop, if not, they ship all over the country, so no excuses. The second ingredient is a little trickier, so we are gonna say it is optional. Acquire some Droplets tonka bean bitters by Javier De Las Muelas, they are illegal in the US, so you'll have to source them elsewhere and smuggle them into the country, they are fairly easy to find in Barcelona, if that helps. You could make your own, but the tonka beans themselves are also contraband, so choose your poison carefully. They are amazing and add their vanilla like flavor adds complexity to the drink, but it is still awesome without them. They may not be worth the trouble to source, since you are only using a single drop. Finally, you need vodka. My understanding is that this is readily available at any liquor store and through most bootleggers. Now that you have your ingredients, let's make a drink. 
Grab your mixing pitcher and pop in 3 ounces of vodka, I went with Tito's, they make that in Texas and it has a nice, clean flavor; 1 ounce of Break-up Potion and one drop of Tonka Bean bitters. Add ice and stir to the beat of "Make You Feel My Love" there are a bunch of versions, go with, Billy Joel or Dylan or Adele or even Garth, it doesn't matter to me. When it is well chilled, strain into something pretty, maybe a beautifully cut piece of crystal you picked up at the antique mall, just for this occasion. Garnish with half a "When Pigs Fly" truffle made with Whistlepig whiskey, barrel aged maple syrup and tonka bean essence on a handblown glass cocktail pick. Dude, Sweet makes them, so "add to cart". Maybe drape a ridiculously long, desiccated orange peel around the base, just because it is pretty and is in no way a metaphor for the passage of time. 
Gaze upon the magnificence of this drink. Marvel at how its lack of clarity completely hides the delicate beauty of its vessel. Chalk that up to experience and inhale the bouquet. Damn that's good. Take a sip. Damn that's even better. Don't drop the truffle in, that would splash on your pretty frock. Sure, it is super simple to build. Sure, it's not really a martini, but damn it is good. 
Sweet and complex, full of wonderful ingredients and a thing of infinite beauty. That's a good dessert drink for my special lady friend. Hopefully, it will help wash down the Tres Leche birthday cake and make some amends for this milestone at home. It is worth making, as Ferris Bueller says, "It is so choice. If you have the means, I highly recommend picking one up." The drink, not the wife. I mean, she is so choice as well, but you don't have the means. So, no picking up for you, enjoy your consolation drink. Stay safe, stay hydrated and stay sane, my friends.