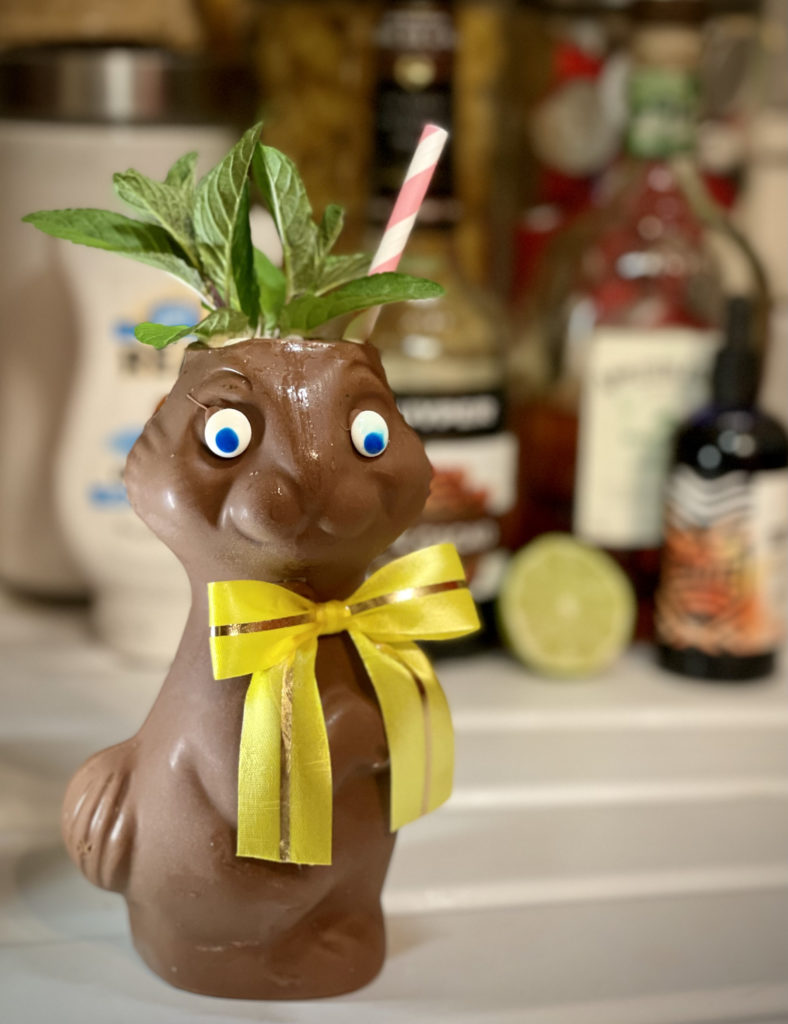 It's gimmicky, I get that. C'mon though. How can you not kind of love a tiki drink in a chocolate bunny? Seriously, who does that? Does it even matter if it is good? On some level all you can do is sort of nod begrudgingly and make the thing, which is what I have done. So won't you join me now and slip from the sublime to the ridiculous as we stand and make the Easter Island.
The inspiration for this one comes to us from the folks over at Craft & Cocktails who created it in honor of their mom who would always eat the ears off the bunny. It does some fun stuff, putting lime in the coconut before bringing on the chocolate and rum, so it should be an interesting drink. Step, the first, is going to be prepping a suitable vessel. We went with the uniquely named "Parsnip Pete" hollow body model. Once you welcome Peter into your kitchen, speak any final words to him before removing his ears with a hot knife. I thought those only worked with butter, but I was clearly wrong. With Parsnip Pete freshly mutilated, I mean modified, let's go ahead and mix this one up.
Grab your tins and pop in 2 ounces of coconut cream, 2 makrut lime leaves, a hefty pinch of lemongrass powder and 1 ounce of freshly squeezed lime juice. Grab a muddler and go over everything for 30 seconds or so to meld those flavors before adding 1 3/4 ounce of dark rum, I went with Appleton Signature and 1 1/4 ounces of creme de cacao. Toss in some artisanal ice and give it a good shake to the beat of "I Will Rise Up" by Lyle Lovett. Sure, that may seem a little on the nose but don't worry, the rabbit can't hear it anyway. Speaking of rabbits, fill old Parsnip Pete with some crushed ice before straining your drink into his great emptiness. Give him a couple of replacement mint leaf ears and pop in a straw before serving.
Well, that is kind of fun. It's got this cool chocolate lime thing going on. Nice depth from the rum base and the lime leaves and lemongrass. It's a little on the sweet side for me, but it is Easter, so there is nothing wrong with a dessert drink. A nice touch from all that crushed ice is that you can handle old Parsnip Pete without him melting on your hands. I can say, unequivocally, that this is absolutely the finest beverage I have ever sampled from an earless chocolate bunny. Hands down.
Like I said, it is Easter, if you go in for that sort of thing. We had a big lunch with family, ate too much goodness, you know, the usual. While cleaning up, the older generations which I am clearly part of now, watched the youngsters chatting and playing in the den. It is good to see the boy playing with his cousins. It gives me hope that they will take care of each other in the years to come, that they have learned the lessons that family really does matter far more than material goods and the passing concerns of this world. This time of year is all about coming out of the dark and rebirth. That sounds pretty good to me. Even though the elders who are left are all wrapped up drinking out of bunnies, the kids, well, the kids are alright. Stay safe, stay hydrated and stay sane, my friends.