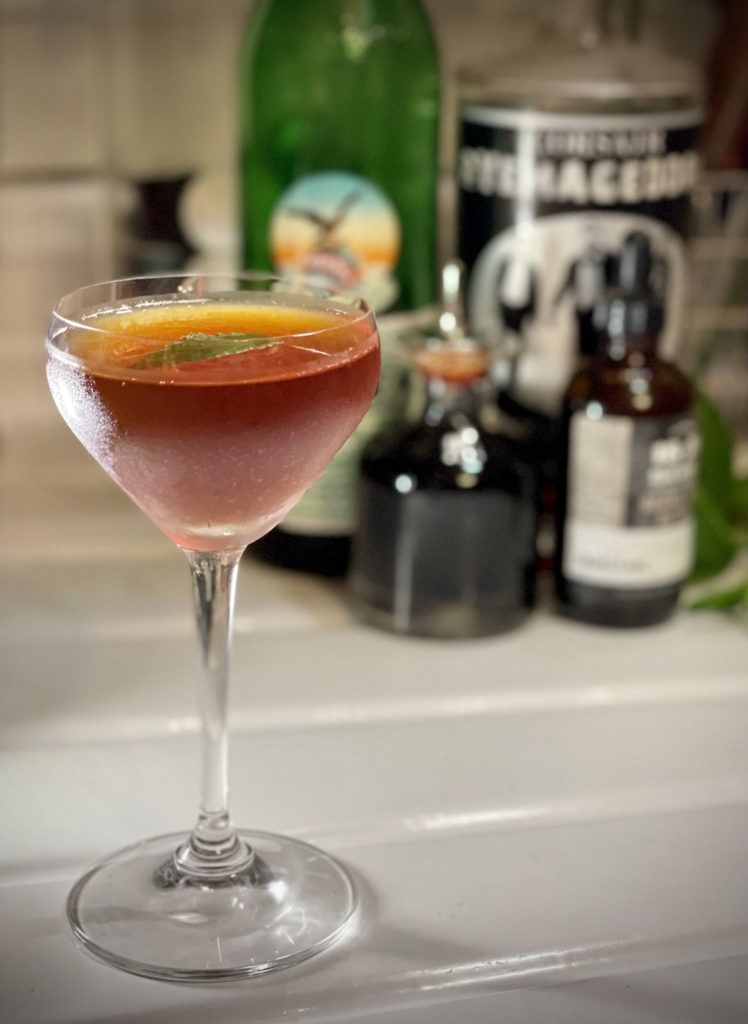 Restraint. There is a lot to be said for it. It's not necessarily one of my strong suits, but I am trying. This is one of the very few areas where I am getting better with age. The older you get that easier it is to let things slide. To be fair, I am way more likely to pull hard on the reins now, when I take them in hand. Of course, that's just the other side of the same coin, someone has to hold them after all. So, grab some leather and hold on as we stand and make the Menthattan.
You guessed it, we are playing with that wonderfully herbal, slightly sweet, menthol laced Branca Menta. I simply adore the stuff. I keep a bottle in the fridge at all times. I have tried it in all kind of cocktails from the tiki influenced Brancolada, to the Menta Wray, The Last Menta and the Praying Mantis among others. I even add half an ounce to my latté on Saturday mornings. Oddly enough, I had never tried it as a shot until last week and I would say that was my new favorite way to enjoy it, but then I discovered this drink. I was turned on to it by Sarah Brown from Nashville's Corsair Distillery. She's got a real knack for finding interesting flavor combinations and this one delivers in a very big way. It is obviously, a riff on the classic Manhattan, but with a herbal menthol kick. This is a great example of playing with the ingredients in a classic formulation to create something entirely new and who doesn't want another way to enjoy Branca Menta?
Grab your mixing pitcher and toss in 2 ounces of rye whiskey, I went with Corsair Ryemageddon; 1 ounce of Branca Menta, 4 stabs of Angostura Bitters and 2 drops of 18-21 Havana and Hide Bitters. Add 4-5 artisanal ice cubes and stir to the beat of "Control" by Puddle of Mudd. Give it a good stir, we want this one ice cold and well diluted. Strain into a chilled coupe and garnish with a single mint leaf floated on top.
Well…isn't that something? That herbal menthol thing steps right up front, but it is tempered by the rye, brought into control. At the same time the Branca Menta and bitters combo takes that sharp edge off the front of the rye, dulling it a bit and making for a much smoother drink. This drink is all about restraint. These ingredients aren't so much fighting for control as they are content to make the others submit and that's fucking brilliant. In most drinks, one ingredient enhances another, but here they all seem to hold each other back, just a little. I'm not a huge fan of the Manhattan, but this variation checks all of my boxes. A seriously wonderful and unexpected twist on a classic.
I am truly enamored with this one, not just for the incredibly nuanced flavor, but for the way it has made me think about how it gets those flavors into balance. You can almost feel the way each ingredient ties the other down. Each strength turned against itself to bring out pieces of flavor that are normally lost. We get that in life, too. Strong people who bring out our strengths, it's another case of that whole being greater than the sum of the parts things. Not to say that doesn't have its challenges. Strong people tend to have strong personalities and making that work requires a whole different kind of balance. It's kind of like this drink, sometimes you shine, sometimes you hold back. Like I said, it's all about restraint. Stay safe, stay hydrated and stay sane, my friends.