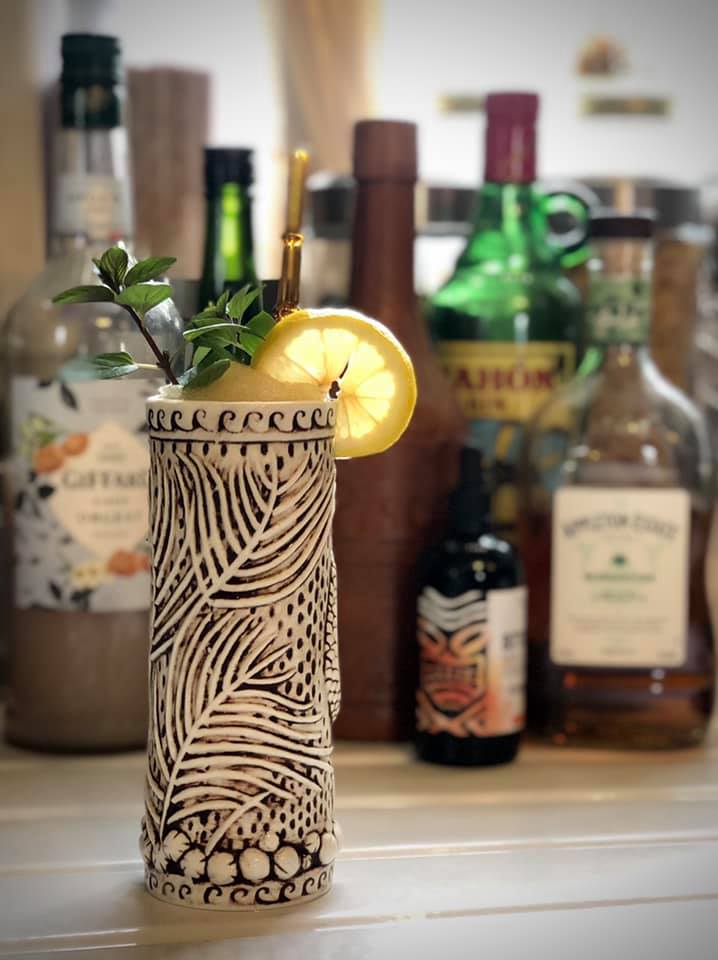 I recognize that no one gives a damn what I am drinking today. Suffice it to say there are much bigger things going on with a lot of things for folks to process as they celebrate or mourn the results of this momentous and record breaking election, so as brevity is the soul of wit, I shall be brief, as we stand and make the Fog Cutter. 
I debated for a while what to make. I had assumed we would not have an announcement today, so I was caught flat footed. I'm a strong believer that this is, and should always be, one country, united. That there is no them, only us. I continue to hope that President Trump will accept this result with dignity and President-Elect Biden will accept his responsibility with humility. I finally chose the Fog Cutter for a tenuous sense of symbolism. The idea that the way forward is clear. We've been stuck at a crossroads, waiting for the results. Whether you like the path or not, at least we know which direction we are headed from here. So, let's make this complicated drink and go from there. 
This is a flash blended one, so grab your pitcher and pop in 1 1/2 ounces of fresh squeezed lemon juice, 1 1/2 ounces of fresh orange juice, 1/2 an ounce of orgeat, 1 ounce of Peruvian Pisco, 1/2 an ounce of gin, I chose Xoriguer Mahon; 2 ounces of lightly aged rum, I went with Appleton Estate and 2-3 drops of Bittermen's Elemakule Tiki Bitters. Flash blend for 20 seconds or so to the beat of Bob Marley's "Three Little Birds" cause no matter how you voted, we are one people and every little thing is gonna be alright. Open pour into some sort of tiki thing and top with about 1/2 an ounce of sherry. Garnish with some fresh mint, a lemon wheel and one of those cool reusable glass bamboo straws from Surfside Sips. 
This is a lovely drink. Mine turned out a bit on the sour side because my lemons were extra sour today, that happens. If I'd realized I could have added a bit more orgeat, but instead I'm just gonna deal with it. It's not quite what I expected, but it is what it is, as they say.
Typically tiki, this one brings a lot of elements together. That's one of the things about tiki I love, it's complicated. Lots of things that honestly probably shouldn't work, but when you put them together they achieve a harmony that makes a drink greater than the sum of its parts. Kind of like our nation. Lots of different people with different beliefs, remarkably diverse, but at the end of the day, one people. Stronger when they are together, a nation that has always been greater than the sum of its parts. So, take some time to grieve or celebrate, but remember to be kind. It doesn't matter what that guy said or that girl posted, unity begins at home. Kindness begins in each heart. Recognize the pain or the joy in those you disagree with and give them space to process that. Respect their humanity, respect their feelings and never forget that we are and must be one nation, indivisible. Stay safe, stay hydrated, be kind and stick together.