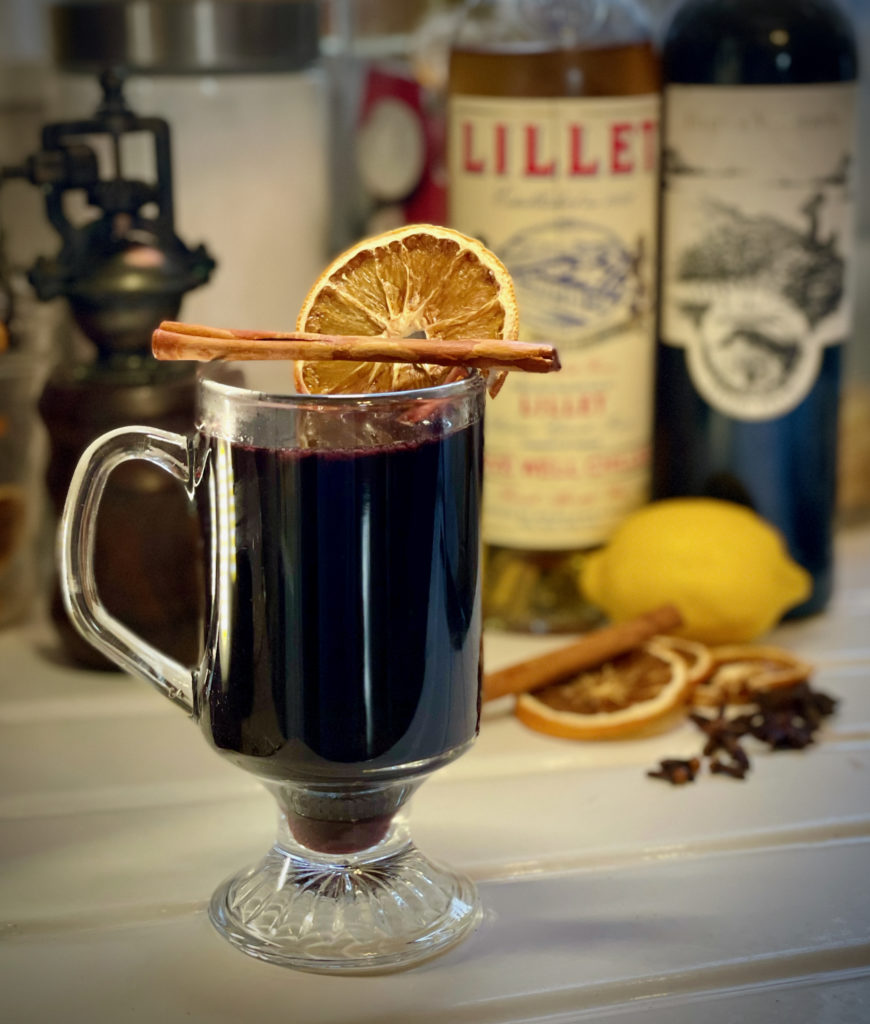 The holidays are upon us again, thank goodness. I am really looking forward to them, especially after all the unprecedentedness of last year. Sure, things are still challenging, but we have more tools to work with and most folks are taking advantages of the wonders of modern science. We've done everything we can to protect ourselves and those we love and I am hopeful of a less distanced, more social holiday season. So, with a nod toward the hugs to come, won't you join me now as we make a traditional classic of the season, Mulled Wine.
Yes, I am well aware that this is not a cocktail, but thank you for noticing the discrepancy. I am also well aware that I am not usually a fan of this particular spirit of the season. However, we must learn and grow and try new things, or more accurately, try new ways of doing old things, so I am going to lean into this one. This particular version comes from Joe Dougherty of Corsair Distillery and it holds the rare distinction of being a mulled wine that I actually enjoy. Orson Welles would appreciate it as well, since the primary ingredient is time. My wife also likes it because she will cook literally anything in a crock-pot. I am sure that some guru will figure out how to make this one in an insta-pot in 20 minutes, but for now we are going to stick with the old ways. Speaking of crock pots, or your preferred brand of slow cooker, you are going to want to grab one of those before we get started.
In your slow cooker add 2 bottles of red wine, I chose a lovely Vinho Tinto from Faria's Vineyards we picked up on a Christmas trip to the Azores a couple of years ago. To that add half a bottle or 375 ml of Lillet Blanc, 3-4 cinnamon sticks, a scant handful each of star anise and cloves, 1 teaspoon of ground allspice, a pinch of black pepper and a full lemon and orange, both sliced into wheels. Give it all a good stir to the beat of "Thanksgiving" by George Winston, turn it on low and let it simmer overnight. you can stir it occasionally if you want to feel like you are a bigger part of the process, but the drink is not really going to care. Alternately, you could just do this all on the stove with a saucepan, but letting it go low and slow all night is going to be for a better experience and your kitchen is going to smell wonderful for the effort. Besides, around here we will serve no mulled wine, before its time. When you are ready, ladle into punch glass or mugs and garnish with a dehydrated orange wheel and a cinnamon stick. Some folks would use one of the citrus wheels from the wine itself, but I just can't resist my dehydrated ones.
Obviously, this is wonderful. The addition of the Lillet Blanc, changes this one in the most delightful way. It adds a depth that mulled wine usually lacks and did you see all of those spices? I dare you to not feel festive with one of these in hand. Here is a pro-tip for you as well, don't serve this too hot. So often, mulled wine or hot toddies or any sort of warm, boozy drink is served piping hot. There is no need, warm mulled wine is perfect. When you apply too much heat, the alcohol aromatizes in a different way and gets a sharp edge to the taste and nose. It's not coffee. It's not tea. Heat it slow and low and serve warm for a true treat for the senses.
I'm getting ready to take off for the week to travel and see family. A big part of my plans include enjoying having other people make the drinks and while I may philosophize about them, you are going to have to be at the other end of the bar to get the benefit of my questionable wisdom this year. Sorry about that. Perhaps, I will meet a scribe, who will share my thoughts with you, but probably not. So, use that gift of extra time spent not reading my words, to hang out with old friends and family or to make some new friends or family, if that's your sort of thing. After the year we have had, we all certainly have things to be thankful for. Take the time to recognize that, to appreciate how blessed we are and to stay safe, stay hydrated and stay sane, my friends.