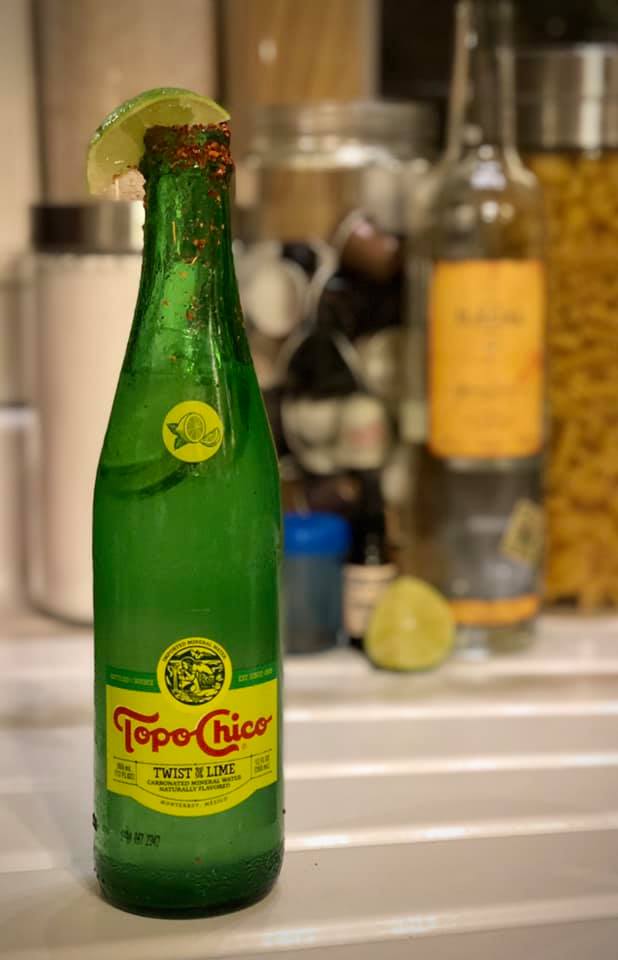 The world used to be a bigger place. There were lots of corners to hide in. Remember the days of regional delicacies? Stuff you could only get if you went to a particular area or place. Hatch Green Chiles in New Mexico, cheese curds in Wisconsin, scrapple in Pennsylvania or Jersey's Taylor Ham. You could live a couple of hours away and have never heard of a loose burger, fry bread or chislic. I kind of miss those days of culinary exploration, even when it wasn't remotely fancy. Twenty years ago, we always stopped at Culver's when we were in Wisconsin, Five Guys when near DC or Jack in the Box in L.A. Today, we can visit any of those within a mile of each other in Franklin, Tennessee. We have more choices, but as these local flavors expand across the country, even in these standardized ways, we are getting a bit more homogenized, a bit more boring. So, in honor of a shrinking world, please join me now as we stand and make my version of a Texas classic, Smoke on the Ranch Water
Let's get this out of the way, I am going to make this one wrong. No matter how I do it, your cousin in Marfa is gonna make it better, or your uncle from down Waco way would never use sliced limes, or only some Austin born man-bunned barista would ever consider using Topo Chico Twist of Lime instead of the regular stuff in his Ranch Water. That's one of the great things about this drink, there is no real agreed upon recipe, just some guidelines. Basically, you need some tequila, lime juice and mineral water. Well, not just any mineral water, the only thing that every recipe does agree on is the kind of mineral water, Topo Chico. I can't blame them, it is truly wonderful, light and bubbly and super refreshing. This drink is a great way to cool down in the Texas heat and as far as I can tell works just fine in other locations. My version is different in a few ways. One, it is a double. Two, I make it in the bottle. Three, I like things smoky, so I use mezcal. Let's get to making.
You have to be in the right state of mind to make this one, so fire up that old radio and play a little Lyle Lovett, maybe "Road to Ensenada". Acquire a 12 fluid ounce bottle of Topo Chico, I prefer the Twist of Lime version, but any will work. Pour little less than half of it into a cup, about 5 ounces. You can sip on this while you juice limes. Toss in about 4 ounces of Mezcal or tequila if you prefer the traditional way, I used Illegal Mezcal. Next add the juice of two limes, about 1/34 ounces. I like to add 2-3 dashes of Crude Bitter Co. Smoke and Salt bitters, but that is also optional. Give it a little swirl or a stir with a swizzle stick and the drink is ready. I usually cut a couple of thin lime wheels and stuff them down in the bottle, but that's totally up to you. One of the things I like about this one, is you can just add tequila and lime juice and walk around drinking your Topo Chico with no one the wiser. 
There are a couple of ways to go on the next step, you can just drink it as is, all incognito-like or pop in a tall straw or I like to rim the bottle with a monkey-made mezcal friendly spice blend. The spice blend is awesome, but requires some ingredients that can be hard to find, Taijin or sea salt are also great options. For my blend you are going to need 3 parts ground turbinado sugar, 2 parts ground cacao nibs, you can just use dark cocoa for this if you want, 2 parts cinnamon, 1 part sal con chapulin aka grasshopper salt and one part sal de gusano aka agave worm salt. Yep, a cool spice blend with real dried grasshoppers and agave worms in it. Blend all these ingredients well and store what you don't use in an airtight container. It makes a great rim for any mezcal drink, but is especially nice shaken on to an orange wedge to enjoy with straight mezcal, in the traditional fashion, I assume. Of course, it is also perfectly acceptable, and traditional to just make Ranch Water in a glass and rim it with this blend. If you'd rather go that route, just cut all these measurement in half or go 2 parts tequila to 1 part lime and 3 parts mineral water. I think that math works out, if it doesn't, just call it a regional variation and move along.
When it comes to drinks it doesn't get much easier than this, you can free pour these all day and get close enough that it till not only be palatable, but actually lovely. This has such a clean flavor, so cool, so refreshing. Honest to goodness, I think this one does taste better in Texas. The drink has a dry character that goes well out west, our humidity ruins everything, or at least it tries to. This one reminds me of other times, sitting in the shade, hiding from the sun. It makes me crave a steaming, greasy plate of enchiladas, with lots of cheese and onions, guacamole salad and a tip of the hat to Robert Earl Keen. Good times. The best thing about this drink, is you can't really get it wrong. If you think it needs more alcohol, alright, make it that way. If you want more lime, knock yourself out. You do you, which is as it should be. You could even make it with Grapefruit mineral water, as long as you use the Topo Chico brand, cause that's the first and last rule of making a Ranch Water. Y'all stay safe, stay hydrated and stay sane, my friends.