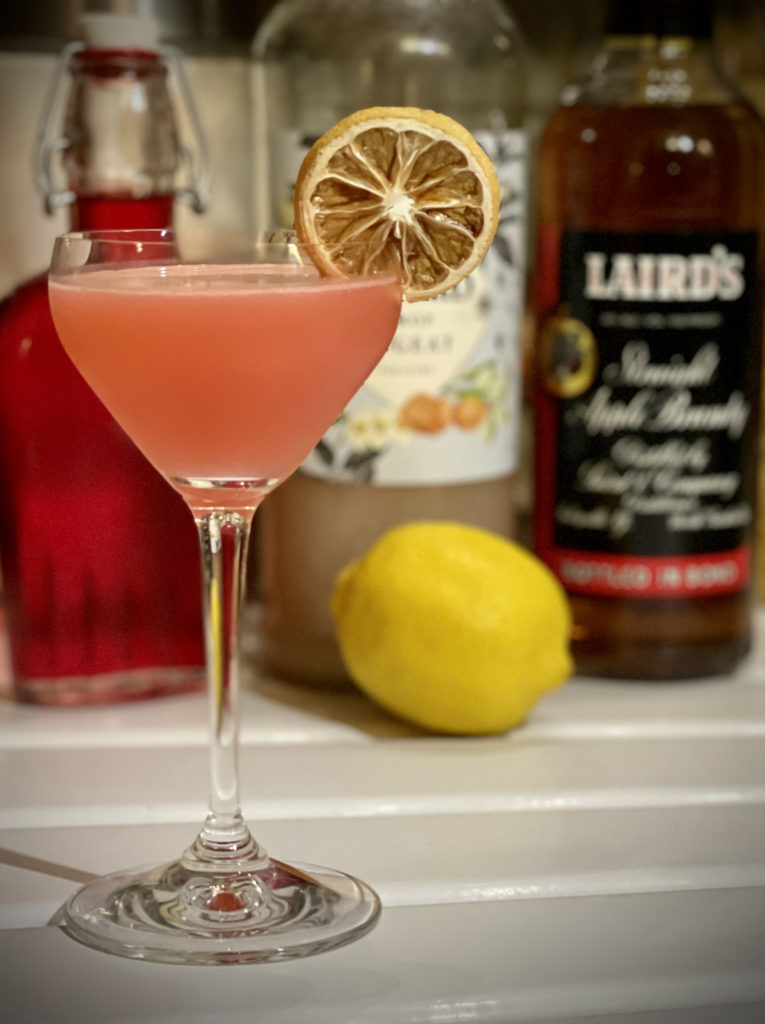 It's a shame that these "Cocktails from Quarantine" are not a well planned expedition into the history of how drinks have evolved over the years. Even a child knows that you should present steps along the evolutionary trail starting at the beginning. That way you get a lovely progression, with incremental improvements, each drink adding a little something that the previous one lacked. I am not that clever, though. I had no real plan when this started beyond making a few drinks to keep myself occupied, maybe learn some new skills, practice the craft and give my self an excuse to throw a bunch of words out there, with at least a tacit connection to the drink being made. To be fair, it has turned out to be more about the thoughts than the drinks, but that happens, when you have such a fine excess of words piling up. One could argue, that when the world closed down and I could no longer go on long-winded tirades in public that the words had to go somewhere, so here we are with them flowing out my fingers. The thing is, I did not have a plan or an exit strategy and I still don't have one, really. I guess I am counting on the world to tell me when to quit. So, in the interest of doubling back to pick up something I missed, won't you join me now a we stand and make the Supreme.
I often don't do my research when it comes to these drinks, I can admit that. Something strikes my fancy and I am off like a shot to mix one up and try it. Sometimes, I already have a decent grasp of the drink's place in the lexicon, other times I have to dig deeper to be able to share things. Occasionally, I will miss obvious connections, like the Midnight Stinger, being a riff on the Stinger, and when that happens, I try to go back and correct the record. I do my best to make sure you are getting accurate information and lacking that, I at last try to make sure you get a good story. I do get distracted by shiny things, a lot, so I find myself making riffs on classics, without getting in there and doing the work to make the classic version before going off on a tangent. I am trying to be better about that, as well.
Yesterday, as I made the More Supreme cocktail I wondered if there were a Supreme cocktail. It turns out that there is, and it has absolutely nothing to do with the More Supreme, which makes adding it to our repertoire even more fun. This drink is not the inspiration for anything we have done before, but comes to us from Eric Johnson at San Francisco's Trou Normand. Sadly, this is another excellent place that we have lost to the Covid shutdowns. They had an amazing charcuterie selection and were named for the French custom of taking small glasses of Calvados, an apple brandy, between the courses of a meal. It was fancy and you should don't be surprised to find that this signature cocktail from their bar features apple brandy.
Grab your tins and pop in 1 1/2 ounces of Calvados, I actually opted for Laird's Bottled in Bond Apple Brandy, because that's what I had. This is very similar to the french apple brandy, but is not the same as their Apple Jack. This drink needs the apple brandy. To that add 1/2 an ounce of freshly squeezed lemon juice, 1/2 an ounce of orgeat and a light barspoon of grenadine. Add ice and shake to the sounds of "Someday We'll Be Together" by Diana Ross and the Supremes. I always loved the song and it makes sense to use it today as I attempt to sneak in a Calvados drink with no Calvados, since the other two Supremes didn't actually sing on this track with Diana Ross. Lot's of baiting and switching going on everywhere today, and in '69 as well, allegedly. When your tins are well chilled double strain into a Nick & Nora and garnish with a dehydrated lemon wheel.
Damn, that's good. I mean, I knew it would be, but it is even better than I expected. It would also be even better with a nice 80 proof Calvados instead of the 100 proof Apple Brandy I used. It is really lovely, even with that kick from the higher proof Laird's. Everything works for a beautifully pink, lightly sweet, cocktail. I really like this one and Laura loved it, so it is definitely one to hold on to.
Admittedly, I only made this one to compare and contrast with the More Supreme and in my book the More Supreme, is less supreme than the Supreme. While this may be surprising linguistically, the drinks are very different and this one is right up my alley, where the other was a stretch for my Campari deficient palate. That's why we do this, right? To learn. To be surprised. To pass the time. To go down a The Supremes rabbit hole and listen to MoTown all afternoon. All these things happened today, so we are going to pretend like that was the plan all along and declare victory. Mission accomplished, as they say. Stay safe, stay hydrated and stay sane, my friends.