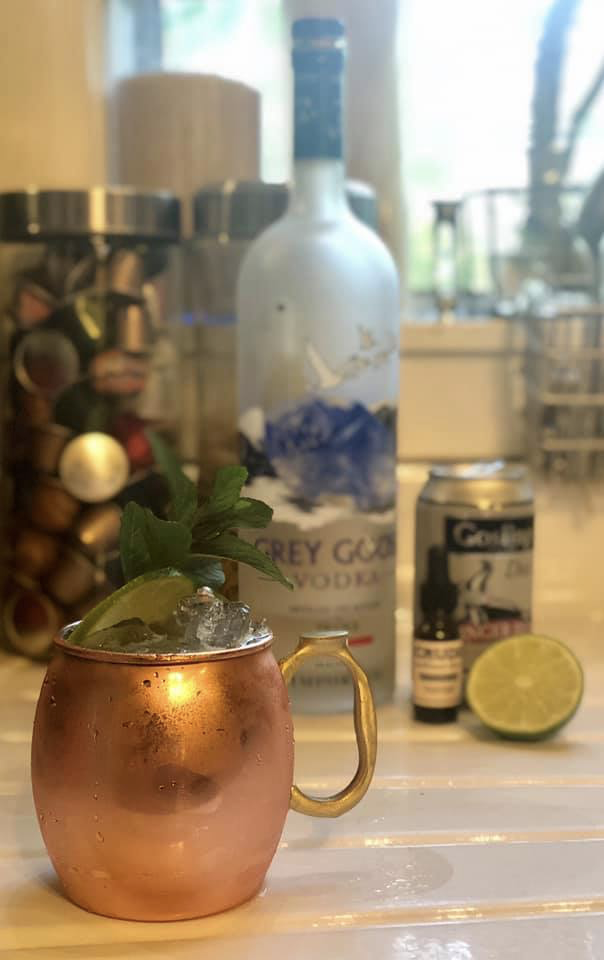 My wife has discovered that ginger goes well with alcohol, I was in a hurry and I own a copper mug, so the simplest of ginger cocktails it is, the Moscow Mule.
This is just a buck, something with alcohol citrus juice and ginger beer or ale. It's a whole class of drinks with some really lovely variations. Don't believe me, have a strawberry mezcal buck some time. 
Grab your copper mug and add 1 1/2 ounces of vodka, I chose grey goose because I had it. Not sure where it came from, I don't remember buying it but it has been here awhile, probably left over from a party a couple of decades ago. Anyway, to that add 3/4 ounce of fresh squeezed lime juice and stir. Add 1/2 cup of ginger beer or more, I chose Goslings Diet, cause I had it, 3 drops of Crude Bitters Co. Salt and Smoke and fill cup with ice. Garnish with a lime wheel and a fresh sprig of mint. Be sure to slap your mint to release the oils and because the mint is sort of into it. Watch the condensation slowly form on the outside of the cup before adding a straw and presenting to your wife, who is on a zoom happy hour call already in progress. Easy peasy, limey sqeezy. Stay home, stay safe, stay hydrated and stay sane, my friends.